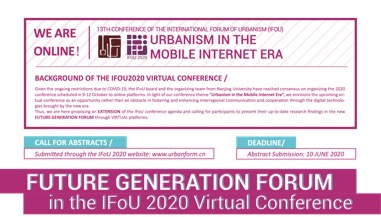 BACKGROUND OF THE IFOU2020 VIRTUAL CONFERENCE /
Given the ongoing restrictions due to COVID-19, the IFoU board and the organizing team from Nanjing University have reached consensus on organizing the 2020 conference scheduled in 9-12 October to online platforms. In light of our conference theme "Urbanism in the Mobile Internet Era", we envisions the upcoming virtual conference as an opportunity rather than an obstacle in fostering and enhancing interregional communication and cooperation through the digital technologies brought by the new era.
Thus, we are here proposing an EXTENSION of the IFoU conference agenda and calling for participants to present their up-to-date research findings in the new FUTURE GENERATION FORUM through VIRTUAL platforms.