Venue
The IFoU Summer School 2009 will take place in Delft. In Delft, lectures and workshops will be given in the Faculty of Architecture of TU Delft. After 18:00 when the Faculty closes, some lectures will continue in the accommodation Kruithuis. In the Kruithuis there is a big room, where you will be able to continue your work, however, there are no computers here, so we advise you to bring your laptop if you think it is necessary. For the ones who arrive one day earlier and will stay in the Room Hostel in Rotterdam, a detailed map is listed
below
.
Travelling from Schiphol airport to Delft by public transport
Get directions by train from the Dutch railway company via:
http://www.ns.nl/en/
!
Please note that there are NO direct trains going from Schiphol to Delft.You will need to transfer either at Leiden or Den Haag HS
Costs for one-way journey:
1st class : €15.10
2nd class : € 8.90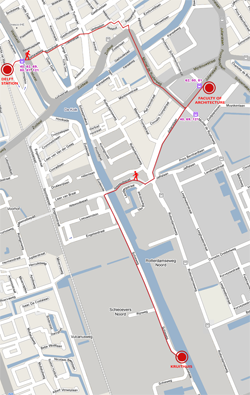 From Delft Station to the TUDelft Faculty of Architecture
You can either take a 15-minutes walk or take the bus to the TUDelft Campus.
!
You can buy a ticket in the bus.
Get off at
Julianalaan
with:
Bus 40 to Rotterdam
Bus 69 to TU Campus
Bus 121 to Zoetermeer
Get off at
Michiel de Ruyterweg
with:
Bus 62 to Nootdorp
Bus 81 to Delfgauw
Bus 80 to IKEA Tanthof
From the TUDelft Faculty of Architecture to Kruithuis the accommodation
It is a 20-minutes walk to the accomodation.
Downloads
Map of Delft
Map of Rotterdam
(for the ones who arrive one day earlier)
List of things to pack
---
Recommended accommodation outside Summer School period
Room Rotterdam
Stay Okay